Decorate your room in a fun way and get priceless reactions from friends.
Experience amazing visual illusion with our Vortex Illusion Rug; it is more than just a mat.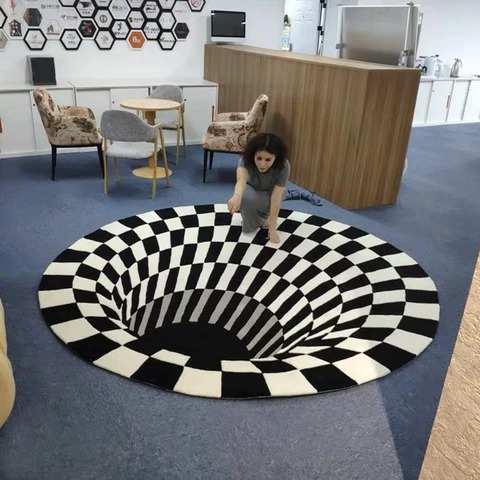 Your Guest Will Remember The Visit:
Vortex Illusion Rug brings a visual illusion in a black and white plaid design like you are in a black hole. Your friends and guests will love the design & the reaction will be "Whoa".
The Rug Couldn't Get Softer:
Get incredibly soft feeling to reduce foot fatigue with Vortex Illusion Rug. Encrypted fluff to prevent it from falling off.
Elegance In Home Decoration:
The mat does not look amazing from just a certain angle; rather, it seems realistic, no matter where you're standing. Make your room look elegant & out of the box decoration will not go without a priceless reaction.
Environment Friendly & Easy Washing:
Vortex Illusion Rug has a durable, anti-slip backing that can be recyclable. The mat itself made of 100% Soft Polyester that is water-resistant & machine washable.
Enjoy 3D illusion effect in your living room or office Vortex Illusion Rug, bring more fun for you & the visitors.
Package Includes:
- 1x Vortex Illusion Rug